Brands of Electric Forklifts We Offer
We offer various brands of forklifts to help you handle different tasks on your job site. The brands of electric forklifts we sell include:
Crown Lift Trucks– Crown Lift Trucks offers impressive forklift designs with advanced technology and engineering to ensure you get the best job product. Crown Lift Trucks is also committed to sustainability, which is an essential deciding factor for many businesses. This brand offers a wide range of forklift products, from hand pallet jacks to heavy-duty straddle stackers. The broad selection of forklifts ensures you can find what you need to suit your job specifications.
Hyundai- Hyundai makes some of the best forklifts on the market, manufactured to be durable, safe, reliable and comfortable. Hyundai has a wide range of forklift equipment, from diesel to electric-powered forklifts, you can use in warehouses or for material handling on your worksite. All Hyundai forklifts are also backed by their industry-leading warranties to keep your equipment protected.
Combilift– Combilift offers the Aisle Master range, which is a collection of forklift models that are built for efficiency and ease of use. These forklifts are easy to install, help increase storage, can be operated in narrow aisles and utilize different engine types. You can easily find forklift equipment that meets the needs of your worksite, whether you need help streamlining your storage processes or want to improve your efficiency in your warehouse.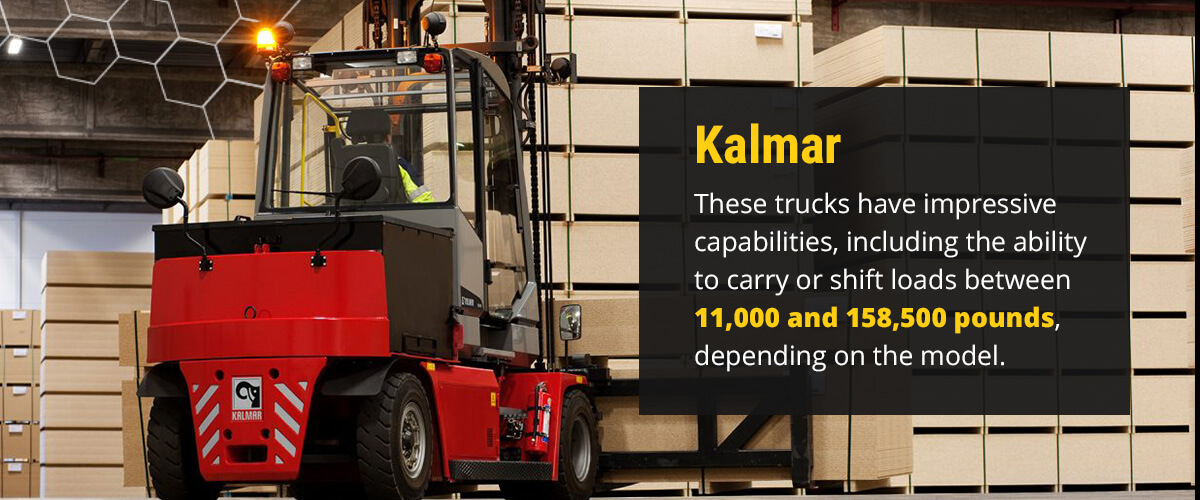 Kalmar– Kalmar is focused on providing safe, reliable, efficient forklift trucks. These trucks have impressive capabilities, including the ability to carry or shift loads between 11,000 and 158,500 pounds, depending on the model. These trucks offer superior performance and can assist with your most demanding jobs.
Big Joe- Big Joe forklifts are designed to help you stack, move and access various products at your warehouse. These forklifts have various carrying capacities — as high as 6,000 pounds with some models. You can choose from a wide range of products to find one that suits your applications and performance needs.
Buying from a local dealer like Thompson Lift Truck gives you a more personable approach when it comes to buying new forklifts. Most local dealers have likely existed in your area for generations and have a reputation to uphold. We won't sell you any old piece of equipment, and we care about finding something that fits your job specifications.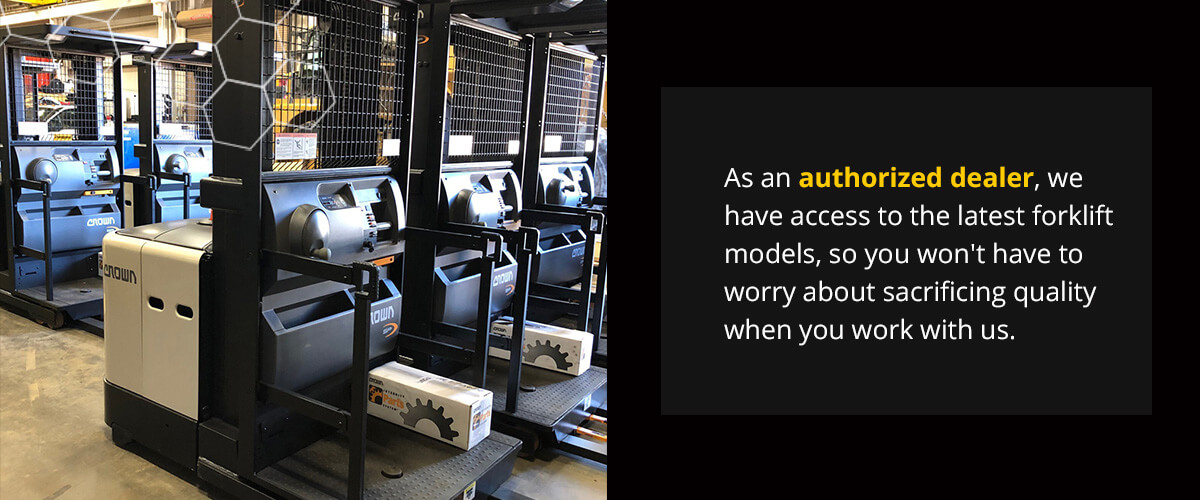 As an authorized dealer, we have access to the latest forklift models, so you won't have to worry about sacrificing quality when you work with us. You may also be able to visit the local showroom to see the equipment you want in person, which can help inform your buying decision. We also offer warranties and have a support team you can call with questions. We'll stay in touch with you after your purchase to check how things are going regarding your new equipment and if there's anything we can help with.
Working with a local forklift dealer like Thompson Lift Truck allows you to connect to knowledgeable experts who care about your needs and are willing to offer support, giving you the reassurance you need that you can rely on your equipment for years to come.